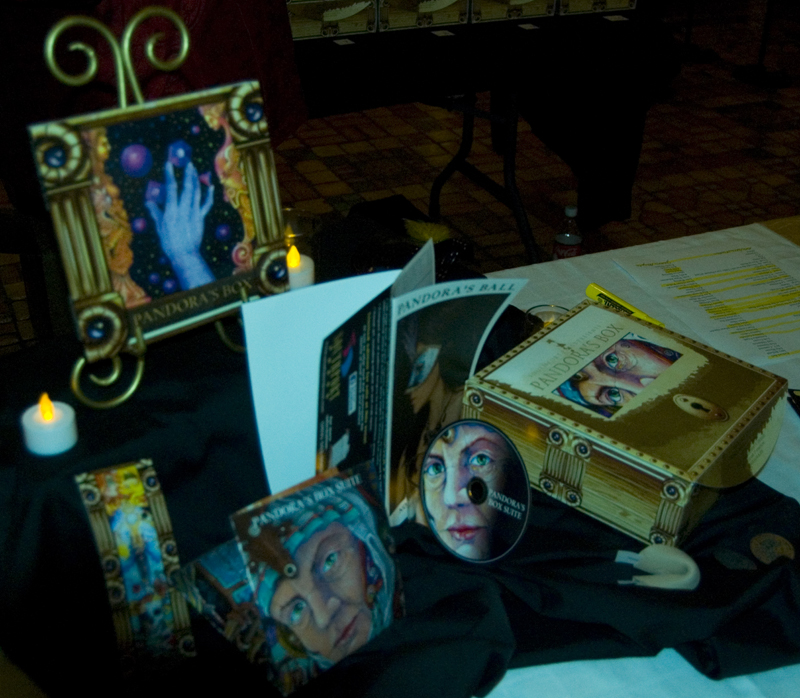 Before I go into this recap, I want to say that I've posted a new link under the Links section, this time for Cartoonists and Illustrators United forum. It's also right on the home page of this site, but the only reason I put it there was because of an artist directory the same site uses. With that out of the way…
I went to the Pandora's Ball last Friday at Rhode Center of the Arts in downtown Kenosha. I've passed by this building many times before during some of my trips through Kenosha, but this was the first time I've ever been in the place. Basically, it's a theater for plays and such.
The event was organized for the launch of the Pandora's Box collection that's being published (in limited numbers) via Southport Press in Kenosha. I actually have a story about the Bray Road Beast published in this collection, but the project got delayed for over a year, so what appears in the book is not representative of my best work now. Still, it is pretty cool that I've got something in a collection like this. The picture at the top of this article is all the stuff that's included in the box, after all.
As for the ball itself, it was a masquerade ball, but people could come dressed like they normally are, so that's how I showed up. To be honest, the events that were going on inside were not really my cup of tea, but I mostly came to check out the finished book anyway.
Pandora's Box is a limited edition collection. I'm hoping to pick up a copy for myself as soon as I can, but if you want to know more about it, this is the page for it on the book's website. I will put up information on my contribution to the book as soon as I am able.